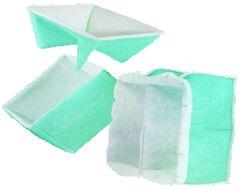 Versatile, Self-Seal Design

Heavy-duty Construction

High Moisture Resistance and Durability
The Glasfloss line of polyester bag filters offers medium efficiency in a wide range of applications.  The rigid, self-seal design of these filters helps prevent air bypass and allows the filters to operate under adverse conditions, especially where high humidity is present.  The Glasfloss Quad 440 features a two-stage 100% non-woven polyester media for maximum efficiency and service life.  The  open fibers on the intake layer catch the larger particles allowing the finer particles to be caught by the dense outflow layer.

The Glasfloss Quad 420 is less restrictive to airflow and performs well in moderate dust loading applications.  Glasfloss Cube Filters feature the same two-stage polyester media found in the Quad 440 and are available in regular, internal supported and unitized construction.

Glasfloss Quad & Cube Filters perform well in both variable and constant volume systems.
#4 - 1455 Brigantine Drive. Coquitlam BC, Canada. V3K 7C2 Toll Free: 877-946-7686 Local : 604 525-6100 Local Fax : 604 525-6111